Corporate or Athletic Team Building
Looking for a competitive edge over your rivals?
Rice University, Texas A & M, St. Mary's University, Episcopal High School, Strake Jesuit, and more! No matter what sport your team plays, Basketball, Rugby, Soccer, Football, etc, we can take your team to the winning level!
Not a sports team?
Over the past nearly 20 years, several top dog corporations have brought in SEAL PT to "shake" things up and bring about unity, increased productivity, identify and resolve problem areas and increase capital. Classes are modified at a "corporate" level so most everyone can participate.
For the past 17 years, the program has been based on the principles of discipline, teamwork and leadership and has a unique way of drawing players out using the elements of our campground including, hills, trails, creeks, etc. along with Jack Walston's signature style of pushing past limits.
Choose from 2 extraordinary programs which will be tailor made for your Corporation, Team or Organization. Click on the below links for details.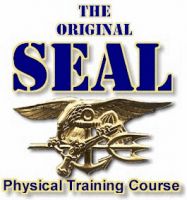 Our program doesn't focus on skill building, we leave that to the coaches, what it does is build a mental toughness and forge teamwork among your players that will take them to the next level. It's a grueling yet extremely positive way of getting the job done.
On site or at our SEAL CAMP, see below.
SEAL CAMP
Our SEAL Camp is located in Huntsville, Texas on nearly 10 acres of "pipe the sunlight" in property. Surrounded by tall pines with Harmon creek just on the edge of the property our 5000 sq foot rustic dorm facility offers the perfect hideaway for Wildman Jack's extreme adventures.
Take YOUR Team to the next level! Contact jack@sealpt.com for more information.